Here you will find our latest information on events, announcements, news and press releases regarding our products, services and related issues.
Please subscribe to our newsletter. We will keep you up to date on news and events, customer stories, publications and other topics that may be of interest for you.
Or, follow us on XING and LinkedIn and receive the news directly on your entrance page.
New: Delta ADS 6 on Mainframe

Some time ago, we released Delta ADS 6 on PC as a new version of our proven generative development system for the application development on PC platforms. With this new Delta ADS, we offer many new functions that significantly improve the understanding of the applications and facilitate the development and maintenance of the extensive and complex COBOL and PL/I applications.
Many of our customers see the mainframe and the generative development of their important core applications with Delta ADS as a strategic part of their IT environment. This is why we are now making Delta ADS 6 available for mainframe environments as well.
Further information can be found here:
https://delta-software.com/link.php?en=6310
Delta ADS Plugin for Microsoft Visual Studio 2019 available

With ADS on Visual Studio you can now standardize your working environments for the application development. ADS on Visual Studio smoothly integrates all ADS tools into your development environment.
This plugin is now also available for Microsoft Visual Studio 2019.
In addition to Visual Studio, plug-ins for Eclipse-based development environments are also available such as Micro Focus Enterprise Developer for z.
Further information can be found here:
https://delta-software.com/link.php?en=6306
Bedag: Same Development Environment for Different Programming Languages
A uniform process control and development environment for the different programming languages is the goal of many enterprises. The Bedag Informatik AG modernizes its development environment and combines the (Viacar) development in C# and Delta ADS in a .NET framework under Microsoft Visual Studio.
Read more here:
https://delta-software.com/link.php?en=6291
Mainframe Technology Workshop of T-Systems
T-Systems organises Mainframe Technology Workshop
"The mainframe is an important component of a modern, holistic cloud strategy. At the Mainframe Technology Workshop 2019, the community will discuss real use cases and important milestones with specialists and customers." (T-Systems)
On November 12, 2019, T-Systems will host a Mainframe Technology Workshop in Ludwigsburg, Germany. Customers, partners, experts and industry analysts will discuss top issues of mainframe users and present solutions.
As a partner of T-Systems, Delta Software Technology reports on "Application Modernisation in Parallel to Ongoing Operation - That's How It's Safe," explains the key points and pitfalls in modernisation projects and highlights solutions.
Please find further information and the registration here ...

Let's meet Delta!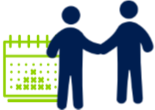 Following you will find some great events that we recommend and at which you can meet us and our partners:
21. GI-Workshop "Software-Reengineering & Evolution" | 06.-08.05.2019, Bad Honnef, Germany
EasiRun Symposium: "Blockchain - Quantum - the digitization of Legacy" | 06.-07.06.2019, Bad Homburg, Germany [canceled]
Partner Event: Micro Focus - Enterprise DevOps Day 2019 | 06.06.2019, Eppstein, Germany
Please give us a call to schedule a date. We are looking forward to seeing you.
https://delta-software.com/link.php?en=6955
New Delta ADS Release Supports New Data Types

Digitisation requires not only new forms of processing, but also new data types. Examples of this are new data types such as
BLOB - Binary Large Object
CLOB - Character Large Object
XML, etc.
These data types enable the storage of large unstructured binary data objects such as image, audio or multimedia files as part of the corresponding data records directly in the respective database or, in the case of CLOB, to process data in international Unicode format.
Delta ADS 6.4.0
The now released Delta ADS for COBOL 6.4.0 offers you additional functions for creating Data Access Servers for IBM DB2 and Oracle and supports the usage of new SQL data types such as BLOB, CLOB, XML, etc.
These data types are defined differently in the different database systems. As always, Delta ADS compensates these differences automatically, following the principle "Single Source - Multiple Target".
In addition, the new Delta ADS 6.4.0 also includes new features that improve performance. Please refer to our Release Notes for further information.
Contact us and order your update for your Delta ADS now.
21. GI-Workshop "Software-Reengineering & Evolution"

The 21th workshop "Software Reengineering & Evolution" of the GI section Software Reengineering (SRE) take place this year from 06-08 May 2019. (GI – Gesellschaft für Informatik e.V. is a German Society for Computer Science).
Delta Software Technology will be there with a presentation:
Technology Change - automatically and during operation
Further information on the event can be found here:
https://delta-software.com/link.php?en=6305