Here you will find our latest information on events, announcements, news and press releases regarding our products, services and related issues.
Please subscribe to our newsletter. We will keep you up to date on news and events, customer stories, publications and other topics that may be of interest for you.
Or, follow us on XING and LinkedIn and receive the news directly on your entrance page.
Delta ADS Plugin for Microsoft Visual Studio 2019 available

With ADS on Visual Studio you can now standardize your working environments for the application development. ADS on Visual Studio smoothly integrates all ADS tools into your development environment.
This plugin is now also available for Microsoft Visual Studio 2019.
In addition to Visual Studio, plug-ins for Eclipse-based development environments are also available such as Micro Focus Enterprise Developer for z.
Further information can be found here:
https://delta-software.com/link.php?en=6306
Bedag: Same Development Environment for Different Programming Languages
A uniform process control and development environment for the different programming languages is the goal of many enterprises. The Bedag Informatik AG modernizes its development environment and combines the (Viacar) development in C# and Delta ADS in a .NET framework under Microsoft Visual Studio.
Read more here:
https://delta-software.com/link.php?en=6291
Enterprise DevOps Day 2019
Micro Focus Enterprise DevOps Day 2019 on June 6, 2019: Discover how you existing mainframe systems and modern DevOps processes can be successfully combined.
We are on-site as partner sponsor: At our demo point, we will show you solutions that will help you to prepare the development of your COBOL and PL/I applications for the integration in DevOps processes.
Further information, agenda and registration at: https://www.ellistours.de/microfocus/2019/devopsday
Make an appointment directly with us: This email address is being protected from spambots. You need JavaScript enabled to view it.
Let's meet Delta!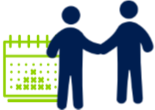 Following you will find some great events that we recommend and at which you can meet us and our partners:
21. GI-Workshop "Software-Reengineering & Evolution" | 06.-08.05.2019, Bad Honnef, Germany
EasiRun Symposium: "Blockchain - Quantum - the digitization of Legacy" | 06.-07.06.2019, Bad Homburg, Germany [canceled]
Partner Event: Micro Focus - Enterprise DevOps Day 2019 | 06.06.2019, Eppstein, Germany
Please give us a call to schedule a date. We are looking forward to seeing you.
https://delta-software.com/link.php?en=6955
Join Delta Groups on XING and LinkedIn
We would like to invite you to join our groups on XING and LinkedIn.
Following the repeated demand of our customers regarding for a platform to exchange experience, we now opened dedicated groups for Delta customers and other interested parties on the leading business networks LinkedIn and XING.
Our groups openly gather all people interested in the automation of software development, maintenance and modernisation – especially using Delta tools. We would like to encourage you to exchange your experiences, discuss approaches and strategies and to profit from the knowledge and opinions of others. Additionally, we will keep you updated on news from Delta Software Technology.
Follow us ...

In case you do not have already an account at these business networks you can sign-on here directly for XING or LinkedIn.
21. GI-Workshop "Software-Reengineering & Evolution"

The 21th workshop "Software Reengineering & Evolution" of the GI section Software Reengineering (SRE) take place this year from 06-08 May 2019. (GI – Gesellschaft für Informatik e.V. is a German Society for Computer Science).
Delta Software Technology will be there with a presentation:
Technology Change - automatically and during operation
Further information on the event can be found here:
https://delta-software.com/link.php?en=6305
Newsletter - Wednesday, 06th March 2019
Dear Reader,
The replacement of technologies for core applications is complex, expensive and risky. Our tailored and flexible automated solutions will eliminate these obstacles. The articles in this newsletter give you some examples for solutions.
In addition, we have new product versions, training courses and events for you.
We wish you informative reading and look forward to your feedback.
Your Delta Software Technology Team
Content
Successful Assessment for Replacing VORELLE
Aquila Heywood introduces ADS on Eclipse
IBM IMS/DB? Modernization Now!
Let's meet Delta
Support information: New Product Versions available
New Delta Training Courses: Register Now
Open Newsletter: https://delta-software.com/link.php?en=6302