"The mainframe is an important component of a modern, holistic cloud strategy. At the Mainframe Technology Workshop 2019, the community will discuss real use cases and important milestones with specialists and customers." (T-Systems)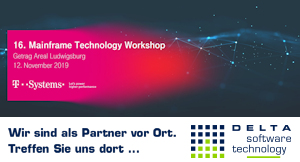 T-Systems organises a Mainframe Technology Workshop in Ludwigsburg, Germany, on November 12, 2019. At this one-day event, T-Systems brings together customers, partners, experts and industry analysts to discuss top issues of mainframe users and to present solutions. (Conference language is German)
16. Mainframe Technology Workshop
12th November 2019, Ludwigsburg, Germany
In the breakout session "Application Modernisation in Parallel to Ongoing Operation - That's How It's Safe", Delta Software Technology, as a partner of T-Systems, will report on the sticking points and pitfalls of these projects and demonstrate solutions using the example of a customer project in the mainframe area.
Breakout Session
"Application Modernisation in Parallel to Ongoing Operation - That's How It's Safe"

Contents
The foundation of business-critical applications has often evolved over decades. During this time, the applications were changed and further developed. New technologies were introduced, partly without completely removing the old technologies.
Modernisations such as clean-up, refactoring, technology exchange and standardisation as well as platform migration are necessary to meet new requirements, improve performance and maintainability, and increase the sustainability of the backend applications.
The documentation of the applications and the knowledge about what was implemented and why it was implemented that way has been lost over time.
So, how do you determine which parts of your application are relevant to the task? What do you do with the dependencies? What about the risks? How do you find all the sticking points? How do you organise change processes? What needs to be tested? What about parallel changes and further development?…
The solution lies in the precisely targeted analysis prior to a modernisation project, the complete automation of the changes and the flexible organisation of the project processes.
Referencing a customer project in the mainframe area, we show you how you can safely and reliably carry out a complex modernisation of your applications in parallel to ongoing operation.

View Lecture on Slideshare
Our Speaker
Dr. Daniela Schilling
Dr. Daniela Schilling is Managing Director of Delta Software Technology.
Further Information
Please find further information and the registration here ...

You cannot attend? Then contact us, we would be happy to schedule another appointment.