SCORE Adaptive Bridges Generates Bespoke Data Services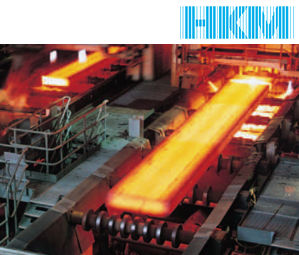 Hüttenwerke Krupp Mannesmann (HKM) – "Hüttenwerke" is German for steelworks – has been using Delta's development tools for more than 25 years and has now once again selected a new tool from Delta. HKM will be using the new service enablement tool SCORE Adaptive Bridges from Delta Software Technology as the core development tool for their "Online Steelworks" project. The goal of this ambitious project is the modernization and enhancement of the online system for the management and control of the central steel production processes.
Hüttenwerke Krupp Mannesmann's plant is located in Duisburg, the steelmaking heart of Germany's Ruhr industrial region. With its 3,250 employees, the company produces significantly more than five million tonnes of steel there each year, equating to approximately every 8th tonne of crude steel produced in Germany.
HKM has selected SCORE Adaptive Bridges to generate the approximately 450 data access servers to manage all aspects of data access to the production data. All of the date required by the "Online Steelworks" project Is stored in an Informix database running on 64-bit Prime Power servers from Fujitsu Siemens under Solaris. SCORE Adaptive Bridges reduces the software development required for the data access to a simple declaration of the access structure. Equally simple as the creation is the subsequent maintenance. This allows HKM to match the server to the exact requirements of the application, and so to define as few, or as many, data access servers as the application needs. The design of the application and the assembly of the appropriate application architecture are independent of the number of servers and their implementation.
The complete data access code is 100% automatically generated by SCORE Adaptive Bridges and made available as custom services that meet the exact needs of the specific client programs that are being modernized and enhanced for the project. By the way, these online client programs will also be generated, for which HKM's will be using the Delta products SCOUT² and ADS that have been successfully used by HKM for many years. HKM works with clearly defined interfaces between the clients and data access services, enabling HKM to optimize their complete development process.
"One of the key reasons we have selected SCORE Adaptive Bridges is that we can make our mission-critical applications available as services that we can quickly and easily reuse – without any extra effort – in other contexts, for example in a Service-Oriented Architecture, Enterprise Portals etc."
Gerhard Batiajew, CIO, HKM
HKM has already completed 11 projects with a predecessor product to SCORE Adaptive Bridges. Example projects include:
A long-term archive of production statistics
A calculation system for raw materials planning
An administration system for transport systems within the plant
A shipping logistics system in co-operation with the port of Rotterdam
These projects have already demonstrated the significant value to application development of completely generating the data access.
About HKM Hüttenwerke Krupp Mannesmann
Since its formation in 1990 by Krupp Stahl AG and Mannesmannröhren-Werke AG, HKM has increasingly specialized in the production of slabs for flat products and in steel rounds for tube-making. The range produced thus corresponds predominantly to the needs of the present-day shareholders – Thyssen Krupp Stahl AG (50%), Mannesmannröhren-Werke AG (20%) and Vallourec & Mannesmann Tubes SA (30%). HKM produces more than 1,000 different grades of high-quality steel that meet the most stringent quality specifications, for example, those demand by the automotive industry.
Download Language: Englisch - Version: MT21037.02

Hüttenwerke Krupp Mannesmann (HKM) - "Hüttenwerke" is German for steelworks - has been using Delta´s development tools for more than 25 years and has now once again selected a new tool from Delta.
Read more
---
Further Information
You can profit from your proven IT applications with SCORE Adaptive Bridges. If you would like to learn more about how Delta can help you then please contact your local sales representative.