References
References
Our customers are medium and large enterprises that want to automate their software development and the associated development processes. They are looking for practical methods and flexible tools to modernize their grown structures, processes and applications – in the long term or for individual projects. Thereby they attach great importance to security, adaptability and reuse.
We provide tailor-made solutions as a combination of
our standard products for the software development and modernization
our core technologies for model-driven generator development
the latest results of research in the area of automation and methods
targeted professional services
Our industry-independent horizontal tools can be used with all software architectures, technologies, platforms and languages and can interconnect them perfectly.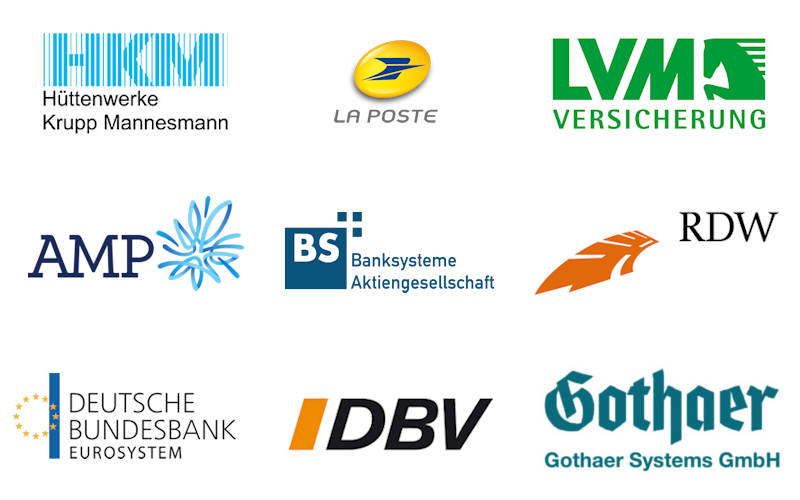 Our customers include well-known companies like Generali, AXA, Deutsche Telekom, Gothaer Systems, La Poste, RDW, Schorch, Suva, UBS and many more. Our case studies inform you about how companies in different branches use Delta's products and benefit from our services.
Banking & Insurance - Liechtensteinische Landesbank, BSQ Bauspar AG, DBV-Winterthur, LVM, Gothaer, YOUPLUS ...
Software Houses, Trade and Public Administration - B+S Banksysteme, Bedag, Hüttenwerke Krupp Mannesmann, msg Systems, RDW, Schorch, ...
Partners - ELCA Informatik, EasiRun, CGI, IBM ...


Banking & Insurance
Banking & Insurance
A selection of case studies from companies in the Banking market using Delta products and services:
YOUPLUS unifies its development environment and updates Delta ADS
A modern development environment was the goal for the software developers of YOUPLUS Assurance Schweiz AG. Together with Delta, the previous development environment was replaced by ADS on Eclipse and at the same time the generator system Delta ADS for COBOL was updated.


IMS Replacement at Gothaer: In Time – In Budget – In Scope
Gothaer Systems migrates its IBM IMS Databases to IBM Db2 together with Delta Software Technology.


Provinzial realizes complete migration from IBM IMS/DB to IBM Db2 with Delta
With the tools and services from Delta Software Technology, Provinzial Rheinland finished the complete application and data migration from IBM IMS/DB to IBM Db2, automated and securely, of over 75 IBM IMS databases and over 36,000 artefacts.


Liechtensteinische Landesbank – For more than a decade the Liechtensteinische Landesbank has been successfully using ADSplus for their mainframe applications. The applications, developed using ADSplus, form the backbone for both the Liechtensteinische Landesbank's internet and GUI applications.
BSQ Bauspar AG - BSQ Bauspar AG plans to migrate its core application package. The project includes also the migration of the complete infrastructure. Particular attention will be paid to the transformation of the database management system IMS/DB to a relational database management system. CGI Germany was chosen as general contractor for this modernization project. Delta will provide the technology for the automated migration.
DBV-Winterthur – Used Delta ADS tools to migrate a large insurance application from UNISYS to IBM mainframes following the merger of two insurance companies.
SUVA - Suva use Generative Programming Tools to Maximize Return on Investment when Integrating Legacy COBOL Applications in a Thin-Client Architecture
LVM Versicherung - The LVM insurance has developed its business-critical applications in PL/I and was looking for a solution for deep source code analyses to support the further maintenance and modernization.
LVM Versicherung - AMELIO Logic Discovery for PL/I convinces LVM Versicherung
Successful Assessment for Replacing VORELLE - The assessment for the replacement and consolidation of decision table generators has been completed successfully. Delta Software Technology assessed, for a large insurer, the possibility of an automated conversion from VORELLE to DETAB but also to Plain COBOL.
Large Financial Service Provider Succeeds in Secure Platform Change with AMELIO Modernization Platform
Insurer makes important core application fit for the future - A large insurer has renovated a key component of its core application with our solutions. Deltas AMELIO-Tools for automated analyses, Code clean-up and re-documentation ensure a future-proof application infrastructure as an easy know-how transfer to the application heirs.
Insurance company assesses unified Micro Focus development environment with Delta Software
Gothaer Systems starts migrating its IMS databases - Together with Delta Software Technology GmbH, Gothaer Systems is consolidating its IMS databases into IBM DB2
Software Houses, Industry, Trade and Public Administration
Software Houses, Industry, Trade and Public Administration
A selection of case studies from Public Administrations and general trade companies using Delta products and services:
Aquila Heywood - Aquila Heywood improves its Delta ADS software development by moving to Eclipse.
Bedag Informatik AG - Bedag modernizes its development environment and combines the development in C# and Delta ADS in a .NET framework under Microsoft Visual Studio.
Hüttenwerke Krupp Mannesmann – The leading German steel producer Hüttenwerke Krupp Mannesmann (HKM) has selected SCORE Adaptive Bridges. Delta's generative development tool will be used in the "Online Steelworks" project to automate service development. The "Online Steelworks" application controls and administers the core steel production process.
RDW – gained future reliability and reduced costs by a full IT modernisation in 3 steps: optimisation of the development processes and off-loading from mainframe to PC, removing all platform dependencies and modernisation of the application architecture, error-free platform and database change.
Schorch – Schorch has benefited several times from the sustainability and long-term feasibility of platform-neutral development with Delta products. The migration of the production management from Fujitsu BS2000/OSD mainframe to Microsoft Windows took place "at the push of a button" and provided the expected cost-reduction. In an earlier project Schorch has already seen how applications can be successfully modernised: by the automatic service enablement of strategically important business functions without changing the existing legacy applications.
B+S Banksysteme - Has one of the largest application systems that has been developed with Delta tools. In April 2012 B+S started to introduce the pre-release of ADS 6 in order to again increase the efficiency and quality of their software development and maintenance.
msg Systems - msg systems relies on AMELIO Logic Discovery for modernizing applications.
RDW - RDW removes technical debts using Delta's automated solution
RDW - RDW uses AMELIO Logic Discovery for decision-making
Partners
Partners
As Independent Software Vendor (ISV) we work together with well-known providers and other ISVs. Furthermore, we cooperate with universities and research institutes. Together with our sales partners we support our customers in Europe and all over the world.
Donwload: References