ADS on Eclipse is Delta's modern, integrated development environment (IDE) for the efficient development and maintenance of COBOL and PL/I applications written with Delta ADS.
The new ADS on Eclipse Release 8 is available now. It offers improved functionality for the development and maintenance of applications written with Delta ADS.
ADS on Eclipse
ADS on Eclipse supports your development teams with specialised features that enables them to deliver new functionality to your business users faster and with better quality.
Clearly arranged perspectives to display the corresponding areas and views in the IDE
Modern editor with intelligent editing and debugging functions such as automatic syntax check, chroma coding, code completion and templates, outline views, bookmarking, code folding, documentation and much more
Direct integration of the application generators, so that dependencies and build precedence are checked
Post-generation debugger for step-by-step tracking and testing of the generating process with direct switching between code editing and debugger.
And more …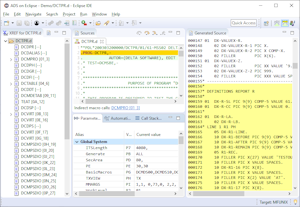 Working with ADS on Eclipse improves the understanding of your applications as the generators provide additional information about the application components.
Furthermore, ADS on Eclipse enables the seamless integration of application development with Delta ADS into the entire development process.
New in Release 8 for ADS on Eclipse
Release 8 is now available for ADS on Eclipse. It contains numerous innovations.
Configuration and deployment: Improved handling of configuration and deployment of the installations.
Companies increasingly use central deployment software to automate the provisioning of workstations. This gives them security and simplifies administration and support through uniformly designed work environments.
ADS on Eclipse Release 8 now help to significantly reduce the administrative effort, especially in larger installations when using central deployment software.
Eclipse Release 2022-03: With Release 8, ADS on Eclipse now supports Eclipse Release 2022-03, making ADS on Eclipse available for Eclipse Releases 2019-12 up to and including 2022-03.
Java 17: With Release 8, ADS on Eclipse now also supports Java 17, making ADS on Eclipse available for Java Long-term Support (LTS) Releases 11 and 17.
For more information, see the release notes for ADS on Eclipse Release 8.
What else …
The integrated development system Delta IDS is not only available in the variant ADS on Eclipse, but also for other systems such as Visual Studio, Micro Focus EDz, IBM IDz, LzLabs LzWorkbench.
We will soon provide ADS on Visual Studio for Visual Studio 2022.
ADS on Eclipse for you
You too can benefit from the power of ADS on Eclipse. Work with the new ADS on Eclipse to provide your business users with new functions faster and with better quality.
We would be pleased to help you, please get in touch with us.
---
The Best Environment for Your Application Development

Innovating, implementing better solutions, finding errors faster, getting more value out of what you have:
All this requires a working environment that supports you in your daily work and that you feel comfortable with.
Do you or your teams develop applications with Delta ADS? In COBOL? In PL/I?
We would like to know from you which development environment do you prefer?


Which one do you use and which one would you like?
Thank you for participating in our quick survey.