Schorch Elektrische Maschinen und Antriebe GmbH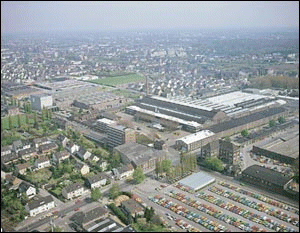 Schorch has benefited several times from the sustainabilitty and long-term feasibility of the platform-neutral development of their core applications with Delta products. The generative Delta products allowed Schorch a smooth platform migration by their "single source – multiple target" concept – cost-reduction by the push of a button.
Using Delta tools, Schorch also found a way to provide strategically important business functions by automated service enablement quickly and easily for the use in business portals – without any changes to the existing legacy applications.
About Schorch
Schorch is an electrical engineering manufacturer and specialises in the production of modern induction machines as individual components or as propulsion systems for all industrial and municipal application areas. Another focus is the delivery of electrical systems as well as extensive support. They are located in Mönchengladbach, Germany, and are part of the globally operating ATB group.
Platform Change at the Push of a Button
Schorch has invested heavily over many years to build a custom production management. The applications have been developed platform-neutral with ADS and generated for Fujitsu BS2000/OSD mainframes (formerly Siemens BS2000/OSD), TP monitor openUTM and DB system SESAM SQL.
Key feature of the development with ADS: single source – multiple targets
platform independent, non-procedural declarations of programs
their automatic generation for one or more target/deployment platforms.
A migration is therefore cost-effective and becomes a simple re-generation – platform change at the push of a button.
Single Source – Multiple Targets
Schorch took advantage of this for the migration of their production management from mainframe to Windows. The software components of the production management have been re-generated using the ADS target system for Microsoft Windows. The specialized ADS tools ensure the perfect support of all system specifics of the new platform with Microsoft Windows, Fujitsu NetCOBOL compiler and MySQL database. The applications have been stable and performant from the start.
"This project pointed out that ADS from Delta Software truly is a piece of gold.
The platform change was in principle a push of a button."
Gerd Dietrich, Application Development Manager, Schorch, Mönchengladbach
The replacement of the BS2000/OSD platform included of course the replacement of the mainframe development environment and the processes implemented there. By using SCOUT² Development Platform, all Schorch-specific processes could simply be mapped in a way that the developers did not have to reorganize. The work became more efficient and the productivity of the development has been increased.
Products: ADS Legacy Platform Development and SCOUT² Development Platform
Download Language: Englisch - Version: MT21061.02
Schorch transferred their production management system quickly, easily and securely from Fujitsu BS2000/OSD mainframe to a Microsoft Windows environment –using ADSplus Legacy Platform Development
...
Read more
---
Service Enablement of Legacy Applications
Schorch investigated the possibilities of making business-critical legacy functionality of their existing, formerly mainframe-based production management available over an enterprise portal. The knowledge of client-sided technologies like Java, JSP, .NET or ASP was limited, the infrastructure was not yet specified.
Schorch decided for the automatic service enablement with SCORE Adaptive Bridges and an add-on for the already used Delta product ADS.
"SCORE Adaptive Bridges lets us 'build bridges' between the old and new world
without needing detailed technical skills in the middleware or portal environments."
Gerd Dietrich, Application Development Manager, Schorch, Mönchengladbach
With SCORE Adaptive Brigdes, the developers very quickly were able to generate "ready to run" Java portlets. SCORE Adaptive Bridges automatically deployed these portlets into the enterprise portal where they were run using a UPIC connection to the legacy BS2000 applications.
No changes to the existing legacy applications were necessary for the service enablement.
Products: SCORE Adaptive Bridges
Download Language: Englisch - Version: MT21027.03
Schorch quickly and easily integrate their mainframe legacy applications into their enterprise portal using SCORE Adaptive Bridges from Delta Software Technology.
Read more
---