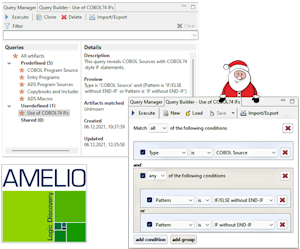 On 06.12.2021 we have released a new release of AMELIO Logic Discovery.
The new query technology expands the KnowledgeBase perspective and provides you with exactly the modules that are relevant for your task. In addition to the ready-made queries, you can now easily define your own queries with the query builder.
Do you want to (re)understand your applications, carry out a migration or modernization project?
Or free your applications from technical debt?
AMELIO Logic Discovery helps you and automatically provides you with all the information you need.
Try it out ...

https://delta-software.com/link.php?en=6323