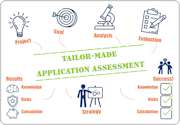 You value the reliability, speed and functionality of your COBOL and PL/I applications?
These applications are an indispensable part of your application landscape for you in the future?
You want your operational back-end applications to be permanently of good quality?
But: You also want to implement changes quickly and benefit from new technologies. You want to play it safe with all changes.
We show you 3 steps that will help you modernise your applications securely and sustainably.
https://delta-software.com/link.php?en=6318