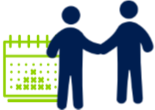 Following you will find some great events that we recommend and at which you can meet us and our partners:
21. GI-Workshop "Software-Reengineering & Evolution" | 06.-08.05.2019, Bad Honnef, Germany
EasiRun Symposium: "Blockchain - Quantum - the digitization of Legacy" | 06.-07.06.2019, Bad Homburg, Germany [canceled]
Partner Event: Micro Focus - Enterprise DevOps Day 2019 | 06.06.2019, Eppstein, Germany
Please give us a call to schedule a date. We are looking forward to seeing you.
https://delta-software.com/link.php?en=6955