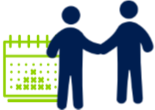 We wish you a Happy New Year 2019!
Following you will find some great events that we recommend and at which you can meet us and our partners:
SVA: Mainframe Dayz | 19.-20.02.2019, Wiesbaden, Germany
IBM: Application Development Days 2019 | 12.-14.03.2019, Boeblingen, Germany
Micro Focus Universe | 26.-28.03.2019, Vienna, Austria #MicroFocusUniverse
GSE European Modernization Working Group Meeting | 01.-03.04.2019, Prague, Czech Republic
Please give us a call to schedule a date. We are looking forward to seeing you.
https://delta-software.com/link.php?en=6955