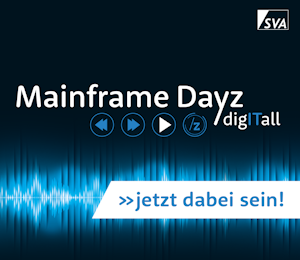 In a monthly event series, the Mainframe SpeakZ, SVA again gave the mainframe a voice. With a diverse mix of customer presentations, industry news, tool updates, and more, SVA keeps you up to date on all things mainframe.
Delta Software Technology was there with a presentation:
"Application modernisation according to your requirements, parallel to ongoing operation"
Dr. Daniela Schilling (CEO Delta Software Technology) explained sticking points and pitfalls in large modernization projects and showed solutions based on a large project at a leading German insurance company.
Contents
The foundation of business-critical applications has often evolved over decades. During this time, the applications were changed and further developed. New technologies were introduced, partly without completely removing the old technologies.
Modernisations such as clean-up, refactoring, technology exchange and standardisation as well as platform migration are necessary to meet new requirements, improve performance and maintainability, and increase the sustainability of the backend applications.
The documentation of the applications and the knowledge about what was implemented and why it was implemented that way has been lost over time.
So, how do you regain the required implementation knowledge?
What do you do with the dependencies?
What about the risks?
How do you find all the sticking points?
How do you organise parallel changes and further development?
What must be tested?
How do you securely manage (testing) efforts, costs and risks?
...
The solution lies in the precisely targeted analysis prior to a modernisation project, the complete automation of the changes and the flexible organisation of the project processes.
Referencing a large project at a leading German insurance company, we show you how you can safely and reliably carry out a complex modernisation of your applications in parallel to ongoing operation in the mainframe area.
Slides and Recording
You could not attend? Here you can request the presentation slides and watch the recording.
Only available in German. If you are interested in an English version, please contact us directly.
Save the Date: SVA Mainframe Dayz 2022
The SVA Mainframe Dayz 2022 will take place from 09-10.03.2022 at the Dorint Pallas Wiesbaden. We will be present with a booth and a presentation.
Make a note of the date and be there in March 2022.