Dear Reader,
Full of energy, we are starting this new year! Finally, we can meet you again in person: at events and at your company. We very much hope to see you at SVA Mainframe Dayz and at the GSE Technical University. Look forward to the presentation of our washing machine for software.
In the text series "Iceberg ahead", our colleague Hans Nickessen describes his experiences in dealing with legacy applications. Read in the current episode how the modernisation of legacy applications helps to reduce costs and risks.
We also have some product updates, new training dates and, of course, the highlights from 2022 for you.
We hope you enjoy reading and we are looking forward to a lively exchange.
Your Delta Software Technology Team
Support Information: New Product Versions available
We have released new versions for the following products:
ADS 6 for COBOL (6.6.0)
PostgreSQL - New Target for ADS 6 for COBOL
ADS on Eclipse (8.1.1)
ADS on Micro Focus (8.1.1)
For more information about the new features and improvements, please see the respective release notes and reference books in the support area of our website:
Let's meet Delta
COBOL and PL/I applications perform their service reliably every day. But the longer the applications live, the more dirt and technical debts accumulate in the applications, making maintenance and further development increasingly difficult and error-prone. Also, in the run-up to modernisation projects, it is advisable to clean-up applications in order to avoid errors and to reduce costs.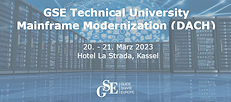 At the following events, we will report on how you can clean-up your applications in an agile way using a software washing machine:
SVA Mainframe Dayz 2023 | 07.-08.03.2023, Wiesbaden (Germany)
GSE Technical University - Mainframe Modernization | 20.-21.03.2023, Kassel (Germany)
By the way, the presented approach and technology is also perfectly suited for a safe, step-by-step modernisation of applications.
You cannot attend the events? We would be happy to present the AMELIO Software Washing Machine to you in a personal meeting. Simply get in touch with us.
Iceberg Ahead: Hard to Port or Risk Minimization
Changing large, productive IT applications is associated with high costs, risks and an enormous amount of time. The race in the areas of agility, adaptability, and the adoption of new requirements is becoming increasingly difficult. The costs for the maintenance and further development of the application are increasing. The productive lifetime of business functions is often measured in decades. Technologies, on the other hand, have a much shorter lifespan. For such transformation projects, you therefore need flexible tools that change your applications in a targeted manner - without endangering functionality and thus the important day-to-day business.
Our colleague Hans Nickessen reports in his text "Hard to Port or Risk Minimization" about how modernization contributes to cost reduction.
New Delta Training Courses: Register Now
Anyone using tools to automate software development needs in-depth knowledge of the methods, modes of operation, and capabilities of the tools. And not just "in principle", but in relation to the concrete environment and task.
Our training courses and workshops help you to use Delta tools efficiently and to optimise the development of your applications: Practice-oriented and taking into account your main areas of interest.
ADS Basics - ADS for Administrators - ADS Refresher - ADS on Eclipse - ADS What's new
Contact us to discuss your requirements for a customised training.
Further information on training courses and workshops you will find here:
Our Highlights in 2022
The pressure to reduce costs and at the same time increase flexibility is a permanent companion of IT departments. For our customers, especially for banks and insurance companies, this has brought the consolidation of database systems into focus. Our reports on the successful replacement of old database systems such as IBM IMS therefore met great interest.

Click here to get directly to the project reports:
IMS Replacement at Gothaer: In Time – In Budget – In Scope
Provinzial achieves complete migration from IBM IMS/DB to IBM Db2 with Delta


Download Newsletter

Dear Reader,
Are there dino's and crocofants hiding in your apllications? Let us team up to fight your technology zoo: replace outdated by modern technologies or consolidate different tecnologies in an automated way.
Experience how you can regain knowledge over your legacy applications, support a know-how transfer or prepare a modernization project, with AMELIO Logic Discovery's new release.
All these, and more ideas about how to treat legacy applications, are summarized in a text series 'Iceberg ahead' by our colleague Hans Nickessen.
We also have released ADS on Visual Studio 2022 for you.
We wish you happy reading,
Your Delta Software Technology Team
AMELIO Logic Discovery: Understanding COBOL and PL/I
Which developer doesn't want that:
A clear presentation for large and complex applications, so that one can understand the logic and implementation simply and directly?
Learn how AMELIO Logic Discovery helps you understand complex applications, document knowledge and support knowledge transfer.
On July 23rd, 2022 we released a new release and a new flyer of AMELIO Logic Discovery.
Hunting the Technology Zoo
Automated Technology Change with AMELIO Modernization Platform
Does your application also contain technology crocofants or dinosaurs?
So, does it contain different technologies for the same task or outdated technologies that make it difficult to maintain and further develop the application efficiently or even prevent modernization?
Then we will show you here how we can tidy up your technology zoo with AMELIO and consolidate and exchange technologies in an automated way - parallel to ongoing operations.
Read our article about this:
Delta ADS Plugin for Microsoft Visual Studio 2022 available
With ADS on Visual Studio you can now standardize your working environments for the application development. ADS on Visual Studio smoothly integrates all ADS tools into your development environment.
This plugin is now also available for Microsoft Visual Studio 2022.
In addition to Visual Studio, plug-ins for Eclipse-based development environments are also available such as Micro Focus Enterprise Developer for z. The ADS plugins are Delta's modern integrated development environment (IDE) for the efficient development and maintenance of COBOL and PL/I applications with Delta ADS.
Further information can be found here:
Iceberg ahead ...
Are your COBOL or PL/I specialists retiring?
"Old" programs are no longer understandable?
Do you want or need to leave the mainframe?
JAVA is the new strategy?
In his series, our colleague Hans Nickessen explains his view on possible strategies for efficient, secure and cost-effective knowledge transfer, a platform change or application modernization.
"Iceberg Ahead!" here is the start of the series:
Download Newsletter

Dear Reader,
When the existing doesn't really fit anymore and thwarts new development, the call for "We'll make everything new with ..." is quickly heard. But, it is worth taking a closer look: Why should everything be redone if the basic functionality of the applications has proven its worth and does not change? What exactly is bothering you? And can the desired goals perhaps be achieved much faster with a targeted modernisation?
Instead of making everything new, the insurance group Provinzial Rheinland decided to migrate their proven applications from IBM IMS/DB to Db2 in cooperation with Delta. They thus created future security and, above all, freedom for new development much faster than with a re-implementation of the existing functionality. Read more in our report.
And thinking even further: Can targeted modernisation become part of the normal development process? At the workshop "Software Reengineering & Evolution" of the German Informatics Society (Gesellschaft für Informatik - GI), we presented a sustainable solution and its practical utilisation by a customer. Read the detailed article about the "Washing Machine that Automatically Cleans up Technical Debts".
We have also provided a new version of our generative development system Delta ADS for you.
We wish you an insightful read and look forward to your enquiries and feedback.
Your Delta Software Technology Team
Provinzial realizes complete migration from IBM IMS/DB to IBM Db2 with Delta
"The Delta solution has its advantages in two points that are particularly important to us: Due to the complete automation of the transformation, the ongoing development of the system, as requested by the business, was uninterrupted during the entire project. Due to the in-place migration and a parallel operation concept, we achieved absolute security and quality during the migration. The guaranteed operational "smoothness" in the project, despite the complex modernization, is certainly a unique feature of the solution."
Stephan Kaiser, Program 'sponsor' Provinzial.
Furthermore, how did Provinzial and Delta overcome the hurdles of the paradigm change without changing the application logic or compromising performance?
Read here the Success-Story:
24th GI Workshop "Software-Reengineering & Evolution"
Dr. Daniela Schilling presented a concept and the solution as well as its utilisation by Delta's client RDW in order to make applications quickly and safely fit for the future at the 24th Software Reengineering & Evolution workshop of the German Informatics Society's (GI) special interest group on Software Reengineering (SRE):

"A Washing Machine for Software - Automated Clean-up of Technical Debts"
What does a sustainable strategy for eliminating technical debts look like?
RDW has been developing and maintaining its core backend applications for more than 30 years. The applications run reliably, but over time technical debts have accumulated, making maintenance and further development difficult. RDW and Delta have jointly developed a sustainable solution to this problem: A washing machine that automatically cleans the software from the technical debts.
Read here how to get your software cleaned up:
Support Information: New Product Version of Delta ADS available
We have released a new version of our generative development system Delta ADS for COBOL. With the release 6.5.1 a new optimisation option for the code generation has been implemented:
Using the option OPT-L, you can have the control code for iterations be optimised.
Do you already know the option OPT-O?
Using this option will optimise the generation of control statement and thus will minimises the generation of GOTOs.
You will find further information on new functions and corrections in the respective release notes in the support area of our website ...
Download Newsletter