SCOUT²™ Development Platform
Optimierte und integrierte Entwicklungsprozesse über alle Software-Komponenten,Werkzeuge und Plattformen: Stoppt den "Kampf gegen die Infrastruktur".
SCOUT² Development Platform
SCOUT² Development Platform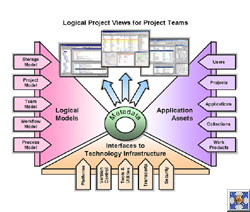 SCOUT² improves the efficiency of your software development processes by integrating your development platforms and tools into a single project environment. SCOUT² is the tool of choice for all project teams working with multiple platforms, toolsets and source management systems.
Integrated Development for Mainframe, Unix and PC Platforms
SCOUT² was especially designed for increasing productivity within complex multi-platform environments. SCOUT² simplifies complicated work processes by smoothly and transparently integrating very different development environments, legacy tools, platforms, methods and processes into clear and well defined project structures.
Safe and Platform-independent Development Processes
The outstanding property of SCOUT² Development Platform is the concept of separating the logic process definitions from the physical implementations of the development processes for the selected platform. This separation ensures the quality, lowers the error rate and accelerates the development.
Following the "Separation of Concerns" principle, SCOUT² makes a strict separation between the logical, platform-independent view of a project and its technical, platform-specific infrastructure. This leads to a clear separation of tasks – project teams focus on "what" to do while administrators define "how" to do it. This saves time and money and significantly increases overall quality.
SCOUT² Guarantees the Quality of Software Development
RDW, the central organisation for the administration of driving licenses and vehicle registrations in The Netherlands and Delta customer since 1982, uses SCOUT² for the complete PC-based software development of their Unisys OS2200 applications, as well as for the redesign and optimization of their IT process management.
"At RDW we have sensitive applications and very personal data. The security and quality of our development processes are our highest priority. SCOUT² not only allows us to support our mainframe and PC-based development processes, but it also fully embraces our special security and quality management processes."
Gerard Doll, Manager ICT, RDW, The Netherlands
Important properties of SCOUT² Development Platform
Download SCOUT² - Integrated Multi-Platform Development
Is SCOUT² the right tool for you?
Deltas experts have decades of experience to help companies finding suitable development platforms. Please contact your local sales organisation to find the right solution for you.